Surprisingly, Choi Jong-hoon greets his best friend of ten years, Seung-ri, with a "thumbs up" in court after not seeing each other for two years.
Seung-ri (real name Lee Sung-hyun, 31), a former member of BIGBANG, and Choi Jong-hoon (31), a former member of FT Island, reunited in court for the first time in two years. On the morning of April 29th, the two faced the 16th anniversary of Seungri's military trial at the Common Military Court of the Ground Operations Command in Yongin, Gyeonggi Province.
Choi Jong-hoon, one of the so-called "Burning Sun Group Chat Room" members, including Seung-ri, Yoo In-seok, and Jong Joon-young, appeared in the witness interrogation on Seung-ri's alleged prostitution, illegal filming, and more.
Choi Jong-hoon, who was sentenced to two years and six months in prison for collective sexual assault, was led by a prison officer in a blue suit and appeared at the court.
Choi Jong-hoon's expression was somewhat reddish, but after finding Seung-ri sitting in the defendant's seat, he was heading for victory. The eyes of the two met briefly, and Choi Jong-hoon raised his thumb with his right arm outstretched just before sitting on the witness stand in court. A silent greeting to Seung-ri.
Seung-ri, who had a calm face all the time, drew attention as he smiled for a moment and showed a relaxed expression.
In the past, the two were known as "best friends" of the same age in the entertainment industry, but retired from the entertainment industry side by side after the infamous "Burning Sun incident" and "Jung Joon-young's group chat" cases broke out in 2019. On this day, one was in the defendant's seat in a military uniform and the other in a prison uniform.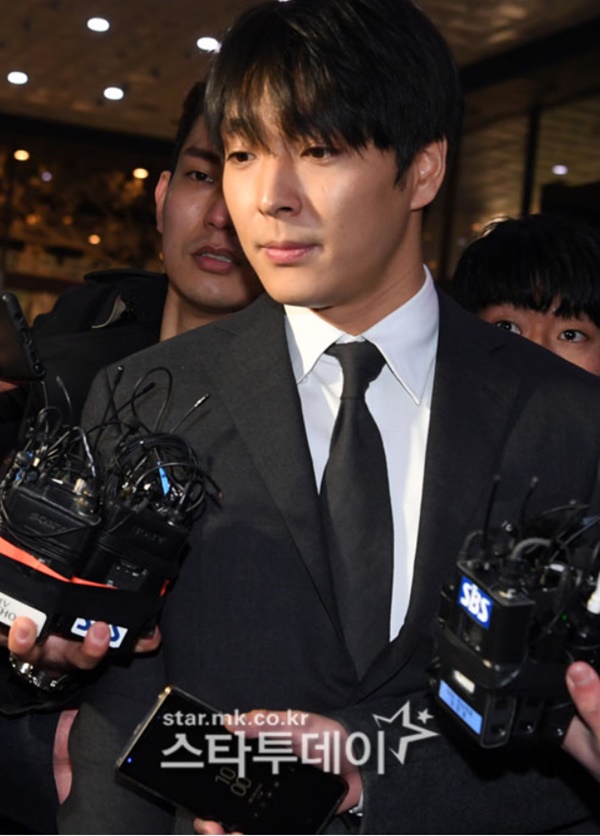 Choi Jong-hoon said, "It's true that Seung-ri called 'A' (acquaintance). And at that time, I thought that 'A' called 'B' (gangster). But when I was investigated, it turned out to be separate."
Choi Jong-hoon was also seen in tears as he recalled the police investigation process. Choi Jong-hoon said, "The police kept asking me things that weren't even my case. So I suddenly cried, saying, "I think I did," even though I didn't remember the police's question accurately."
Seung-ri, who listened to Choi Jong-hoon, had a heavy look on his face, and the trial was adjourned for a while to recover Choi Jong-hoon's overwhelming feelings.
The reunion of the two, who had never met or exchanged contact since Choi Jong-hoon was arrested in May 2019, ended with a four hour court session that unfolded in such tension. Choi Jong-hoon looked at Seung-ri several times during the witness interrogation, and Seung-ri also watched Choi Jong-hoon closely.
In particular, Seung-ri showed keen interest in Choi Jong-hoon's court statement about the unfavorable content on his police report.
In addition to Choi Jong-hoon, 'K,' who was with him at the scene of the alleged sexual assault, appeared in the courtroom as a witness, but most of the questions were answered with, "I don't remember."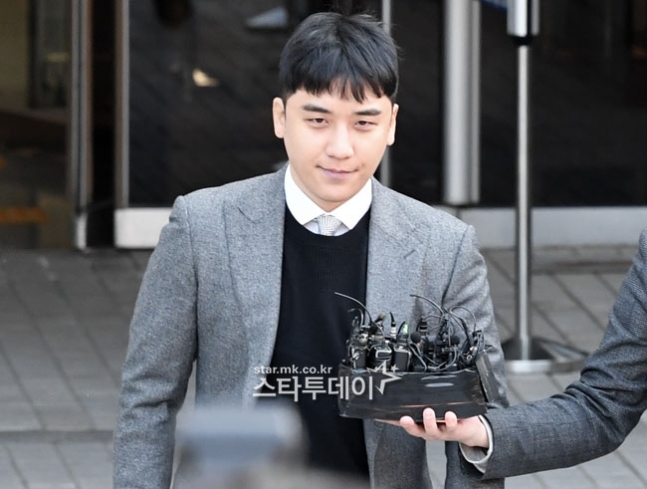 Meanwhile, Seungri was indicted without detention early last year after 17 police investigations, as he was cited as a key figure in the Gangnam club Burning Sun scandal in February 2019.
Seung-ri is accused of violating the Special Act on prostitution, prostitution, sexual violence, etc., habitual gambling, violation of the Foreign Exchange Transaction Act, violation of the Food Sanitation Act, embezzlement of duties, and aggravated punishment of certain economic crimes.
In the trial, which began in September last year, Seung-ri only admitted to violating the Foreign Exchange Transaction Act, but has maintained his position of denying most of the charges.
[Source: Everyday Economy via Naver]
2